Bringing EQ to Service Desk Outsourcing IQ
The traditional "techy" stereotype can lean heavily towards certifications and subject matter expertise over social graces, otherwise known as emotional intelligence (EQ).
Indeed, there may very well have been a time when technical prowess was wielded like an awe-inspiring weapon that inflicted merciless condescension upon the computer illiterati – and for some organizations that may have been earlier this morning. If those days aren't over yet, those service companies that dismiss the value of EQ soon will be.
Thankfully, the trend towards emotional intelligence continues to evolve with IT. As more digital natives, personnel who grew up with much of today's technology, are introduced to the service desk outsourcing workforce, the mystique associated with their practically innate Level 1 skills is on the wane.
If a three-year-old knows how to unlock an iPad, click the YouTube icon, scroll and select cartoons or take and review photos with an iPhone, it's clear performing application-based functions is no longer a skill reserved for the elite. As a result, with technical IQ being a given, delivering exceptional customer service is where the service desk agent makes a difference. That's where EQ comes in.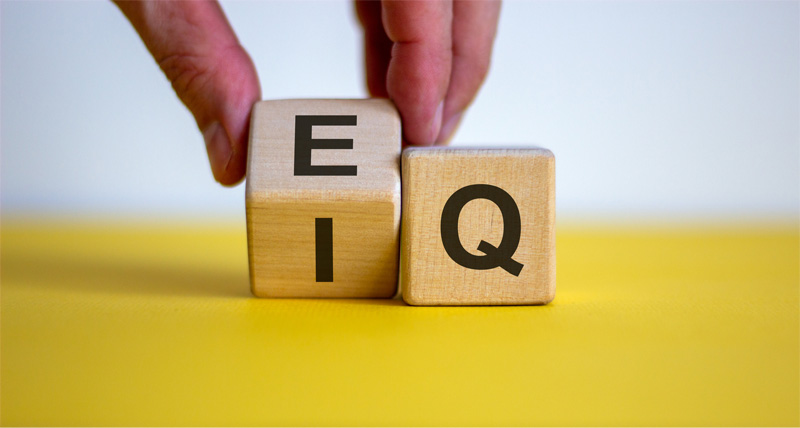 The pillars of EQ excellence are self-awareness (knowing how your behavior impacts others), self-management (controlling your emotions), social awareness (empathy for others), and relationship management (building positive interactions with others under all circumstances, the Dale Carnegie effect).
The ability to simultaneously reign in these skills while formulating a technical resolution to the end user's problem is an ambidextrous balancing act of the left and right brain that rarely goes unappreciated.
Indeed, the swift resolution of a technical issue is a must. But, in so doing, end-users crave reassurance and empathy without the slightest hint of condescension. In terms of end-user interaction at the service desk, the difference between a high and a low EQ is often in the choice of words:
Phrases agent should avoid are:

"We don't do that here."

"I don't know anything about that, but I'll find someone on-site to check it out."

"We're not on-site."

"I don't have access to do that."

Better phrases to use are:

"I can help you with that." This doesn't necessarily mean the agent can resolve the issue, but assist in moving it towards resolution.

"Let me do some research and make sure this gets to the person who can resolve this for you."

"I will contact the team that handles those requests and make sure that they are aware of your problem."

"I am notifying the proper team right now."
When responding to service desk incidents or interruptions in the end user's normal workflow, a considerable amount of emotion, particularly frustration comes into play. An emotionally intelligent service desk agent remains calm and knows it's best to fix the user first before rattling off a litany of resolution procedures. So they are instructed to do the following:
Be a good listener. Show that you care. Respond positively. "I can help you with that today," "It would be my pleasure to assist you with that problem."

Maintain an empathetic approach. If they have talked to five different people or they have waited on hold for longer than they wanted to, apologize. "I'm sorry that you've been transferred so many times. I can help you with that." "I'm sorry that you were on hold for so long. I'm glad to finally be able to help you today." Be sincere even when you've had a rough day.

These are simple comments that go a long way towards making the customer feel better. The service desk is in the people business first, and the IT business second.
To ensure those people skills are coming across in audio, an industry best practice is to record the conversation for quality and training purposes. Service Desk Team Leads review a percentage of recorded calls weekly for each agent and rate them for proper greetings, listening skills, voice tone, and avoiding dead air by explaining their troubleshooting steps in progress.
The leads then follow up with the agents with recommended improvements and coaching tips if necessary.
Mechdyne teammate, Hector Gonzalez, has had decades of experience assessing the EQ of potential service desk agents. "Although emotional intelligence is a skill that can be honed," says Gonzalez, "if the agent doesn't recognize the value of customer service as a core principle, adopting specific techniques towards that end ultimately proves unsuccessful.
No matter how technically qualified individuals are, they must have personality, energy, and a professional presence before they are considered for the position."
Since agents are often dedicated to specific accounts or at least serve as primary resources, successful relationship management skills are manifest in callers frequently asking for those agents by name. Other natural consequences are high customer satisfaction scores and, if enough positive experiences are delivered by all agents assigned to that account, long-term client retention is a well-earned result.
Want to learn more about service desk outsourcing? Contact our team today.