Greetings from Wayward Social
A few weeks ago, I teamed up with more than 15 of my Mechdyne teammates at the newly renovated Wayward Social to Bowl for Kids' Sake on a Saturday evening. We spent the afternoon bowling and raising money for children in need of mentors across Marshall County. The event was hosted by the Heart of Iowa's Big Brothers Big Sisters, who did a great job in their fundraising efforts and even spiced up the event with local door prizes. Each year, we visit a number of classrooms and schools around Central Iowa, but helping to support kids outside of the classroom is just as important. Big Brothers Big Sisters offers that, and I'm glad we could contribute!
– Zach
Greetings from Foyer
My wife and I work with a charity organization in Aberdeen called Foyer, which supports former homeless and at-risk individuals. As part of a 12-week program for recovering addicts, a Mechdyne client-hosted the group to experience technology and understand what I do. It's really rewarding when work and giving back to my community can go hand in hand.
-Donald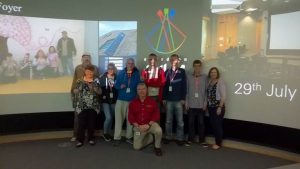 Greetings from Riverview Park
I celebrated Earth Day with my Mechdyne teammates by helping clean up a local park. It's amazing how much rubbish, sticks, and leaves we bagged up in a short amount of time, and how much fun we had doing it. It feels good to help the earth on Earth Day, and there's no better reward than giving back to my community. Good work, Mechdyne team!
-Darren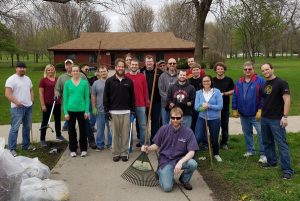 Greetings from Glow Bowl
Last week, we joined several Mechdyne teammates for the Heart of Iowa Big Brothers Big Sisters' event, Bowl for Kids' Sake. When we are asked why we participate in these events, we always ask back: why wouldn't we do something like this? Opportunities like this are a win-win. We help raise money for a good cause, and get a chance to spend time with my teammates outside of work. It's very rewarding to work with people who value giving back to their community.
-Mel and Raymond
Greetings from the Houston Food Bank
I recently had a chance to join a group of Houston teammates to volunteer at the Houston Food Bank, the country's largest food distributor. We had the opportunity to learn first-hand what it's like to help people in need. Knowing we are helping feed the hungry is a very rewarding experience. I'm grateful that Mechdyne encourages and supports efforts to contribute to the communities that we live and work in. Our team and extended family members are looking forward to coming back to help again soon!
-Kevin