JLR Design Studio Increases Design Review Process Efficiency and Time Savings
DATE: June 14, 2021
Marshalltown, Iowa: Jaguar Land Rover (JLR) recently completed a new Design Studio in the United Kingdom at the National Automotive Innovation Center, having selected Mechdyne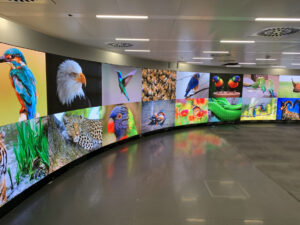 to integrate key augmented reality (AR) and audiovisual technology (AV) and deploy innovative software platforms to increase collaboration. Two years ago, JLR had a vision to create the most collaborative environment possible in their new studio, not only to improve their design reviews, but also to create a more cohesive workflow. To achieve the vision, Mechdyne and JLR thoroughly examined workflows, design meeting objectives, and image quality requirements before developing concepts and selecting technology for the new space that includes:
A Custom Augmented Reality (AR) Application
Mechdyne's TGX Remote Desktop Solution
A Massive, Direct-View LED display wall
A Custom wall of sliding displays
The AR application, developed by Mechdyne and called Smart Plate by JLR, was developed to help improve feedback during the design review process.  The software fuses a real world object and its associated CAD data with remarkable accuracy even as the designer moves and inspects the object. When JLR designers inspect a prototype, they can use a tablet to overlay the CAD design that underlies any area of the prototype.  A motion tracking system is used to monitor the position and orientation of the tablet as the reviewer moves around the prototype. Refreshing the CAD data in real-time with the viewer's movements utilizes Mechdyne's TGX remote desktop. The tablet does not need to have the CAD application installed or a copy of the CAD data. TGX enables the CAD data on the original graphics workstation to be viewed on the tablet.
With Mechdyne's TGX remote desktop solution, JLR can visualize a CAD model overlaying their clay model while changing the design and contour of the vehicle they're working on within the software. Before this technology, the clay model artists would make physical changes to the design of vehicle during the design review, requiring time for each modification and communication back to the CAD modeler. Now, using augmented reality, JLR will reduce the number of changes the clay model artist makes, ultimately reducing design time.
The nexus of JLR's design studio is an impressive, curved direct-view LED display wall (2.1 meters tall and 14.6 meters long) based on new Radiance LED technology from Digital Projection. This expansive display presents multiple digital prototypes simultaneously for comparative review. Extensive testing and consultation was required to find the display technology that would best reproduce the colors and level of detail required. Mechdyne also developed a unique interface; a scale model vehicle is placed on a pedestal-mounted turntable in front of the LED wall. Turning the physical model simultaneously turns the digital model(s) to match.   This creates a very intuitive means of inspecting digital designs.
Another key element to JLR's new Design Studio is the LCD display wall (2.1 meters high and 14.8 meters long working space) made up of four 4K displays. The solution uses a custom sliding rail system, allowing for all the displays to come together and form one large display, or be separated into four individual user experiences. To encourage collaboration using these displays, Mechdyne custom configured its Meeting Canvas software that enables designers to use hand-held devices to interact with the large displays.  Multiple users can simultaneously display desired content from their own devices onto individual displays or the combined display, then collaborate, manipulate data, annotate and more.
JLR ultimately selected Mechdyne because of Mechdyne's experience creating world's first solutions using high-end visualization technology. JLR's Design Studio is now fully enabled to help designers achieve their collaboration and unified experience goals, ultimately creating process improvements and shortening design schedules.
About Jaguar Land Rover: Jaguar Land Rover is the UK's largest automotive manufacturer, built around two iconic British car brands: Land Rover, the world's leading manufacturer of premium all-wheel-drive vehicles; and Jaguar, one of the world's premier luxury sports saloon and sports car marques.
About Mechdyne Corporation: Mechdyne Corporation is a broad-based technology partner specializing in audiovisual and information technologies (AV/IT), visualization and software solutions, immersive virtual and augmented reality technologies, and technical support services. Headquartered in Marshalltown, Iowa, Mechdyne serves a global client base that includes leading government laboratories, university and research centers, energy, aerospace, manufacturing, and medical organizations, as well as any other user of advanced technology.
For More Information:
Jeff Brum
Corporate Marketing Manager
Mechdyne
P: 519-265-6156
Email: jeff.brum@mechdyne.com