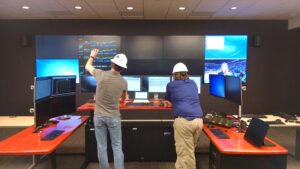 Immersive visualization technology that's under-utilized or sits idle not only fails to pay for itself, it represents massive lost opportunity for the organizations who invest in it. In a recent blog post, we explored why that happens (the reason for underuse range from a change in company vision to the loss of the system champion). More important, we outlined ways to jump-start ROI from under-utilized systems.
The surest way to ensure your visualization technology investment pays off, however, is to prevent underuse in the first place. And the best way to do that is by including post-installation audio visual services in your purchase.
Why Budgeting for Post-Installation AV Service Is So Important
1. Post-Installation AV Service ensures systems perform as expected after installation. It only make sense: Continual engagement from the AV service provider allows for a smooth transition from concept design, through delivery, and into day-to-day operations. Being able to tap into your partner's expertise as needed – without worrying about added costs – will optimize system performance.
Post-installation service is especially valuable in cases where the original champion of the system leaves the team. Should that happen, your AV partner will be there to maintain continuity and ensure a shared understanding of the original vision.
There are other scenarios, too, in which post-installation service can be a lifesaver – for example, when a system needs to be recalibrated to maximize performance. This is a common occurrence especially when multiple users or use cases are involved. A system may also need to be updated to simplify workflows or accommodate new ones. These modifications can be as simple as a redesign of a control system interface or the addition of hardware to incorporate a new technology the organization has adopted.
2. System users may need content support. As anyone with a game console can tell you, the experience is only as good as the content that runs on it. Many organizations need assistance getting their data onto their visualization system (we know, because we do it all the time). Often the best partner to offer that assistance is the one that designed and installed the system in the first place. (Read about how we approach this issue in this blog post on content use in VR environments).
3. Equipment downtime destroys organizational productivity. If you've experienced technical or operational glitches that interrupt performance, you know what kind of nightmares can ensue. There's nothing worse than technology that doesn't work when you need it most – say, when clients are calling, investors are visiting, or leadership is convening.
What You Can Expect From Post-Installation AV Service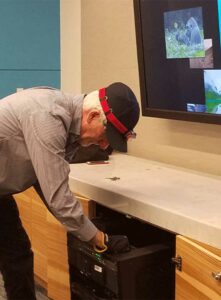 Two points to make regarding post-installation service: the first is that when you're preparing to purchase or upgrade AV equipment, don't forget to consider the services your organization will need to maximize the value of the solution over time. Do some prognosticating. Your particular organization may require full-time managed service support, or it may function best with a plan that provides support as-needed or on a schedule.
The second thing to remember is that a capable post-installation AV service provider will work with you to tailor their offerings so that you get precisely what you need. One of the reasons Mechdyne is a leader in this area is because we take the time to get to know our clients' use cases, workflows, and strategic objectives, and then tailor our menu of services to ensure a direct overlay with what the client needs.
Here are some of the professional services that can be included in a post-installation AV service plan:
1. On-site or remote AV support. As stated above, support can be planned and scheduled, or it can be provided as needed. Either way, the client has the peace of mind that help is always at hand – at a cost for which they've already budgeted.
2. Control system programming. Or should we say "re-programming." Once a system is in use, opportunities to simplify operation through control system modification often present themselves. Simple changes can reduce the new-technology intimidation factor, improve the user experience, and maximize technology utilization rates.
3. Staff augmentation. Workflows can be planned for, but workloads can shift in ways no one can predict. In such cases, the post-installation service provider can augment client staff as needed. This can be especially valuable in expanding the bandwidth of IT teams to allow them to focus on more strategic initiatives while preserving the quality of the AV end-user experience.
4. End-user training. A thorough understanding of how to operate the system can make all the difference in engagement and utilization. It can also lighten IT's workload dramatically. Mechdyne post-installation service offerings often include hours that can be directed to end-user training.
5. Content development and optimization. Content needs to be relevant and current. As part of our post-installation menu of services, Mechdyne is available to help create new content to support visualization needs or to enhance existing content so that it runs smoother and faster on complex visualization systems.
6. Extended warranty. Ask your provider about managing equipment warranties for all AV equipment manufacturers in order to create a seamless and hands-off warranty experience. Something else about extended warranties: They can go a long way in easing budget worries. After all, an extended warranty is a known quantity – far friendlier to your budget than having to scramble to find funds in the event of an equipment failure. These plans, by the way, have changed in key ways over time – moving from a traditional "insurance" policy model to become more of a tool that's tailorable to your organizational goals.
7. Consulting. Tremendous value can be found here. Remember, the partner who designed and integrated your visualization system has likely worked on many other projects. They have up-to-date knowledge and a broad perspective on use cases and workflows, as well as matters like cyber-security. A post-installation service plan can include consulting hours both to ensure your technology solution is generating maximum ROI and to help you plan for future technology needs.
An Investment You Won't Regret.
Post-installation service and support is about more than peace of mind. In a fast-changing technology landscape, it's a business essential. That represents a significant change from the past, when service and support plans weren't all that different from insurance policies. They were there when you needed them. Today's service plans are an entirely different breed. Not only are they tailorable to your unique needs, they're integral to maximizing system performance, engagement and utilization throughout the life of your investment.
Fill out the form below to get in touch with a Mechdyne Expert.