Mechdyne EMEAA Adds Business Development Consultant With Rich History in Complex Audio Visual and Immersive Experiences
Leicestershire, United Kingdom (January 10, 2022) – Mechdyne Corporation's office for Europe, Middle East, Asia, and Africa operations is pleased to announce the addition of Simon George to the team in the role of Technical Sales Consultant. Simon has more than thirty years of audio visual experience, most with large-scale solutions in museum, theme park, retail, and corporate sectors. His ability to uncover and understand use case requirements, combined with his technical knowledge, complement Mechdyne's strengths in design and global delivery of complex audio visual, immersive visualization, and virtual reality systems.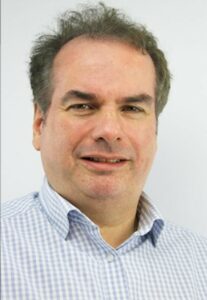 Simon's expansive history includes not just business development but also system design, technical support and custom software engineering. His most recent role spanned more than 25 years as a sales and senior consultant with another global audio visual integrator. Through his varied audio visual roles, Simon developed a comprehensive understanding of all aspects that make a client solution successful; thorough needs analysis informing innovative design, disciplined planning and integration activities, ongoing support, and the importance of content. Simon will be based in the United Kingdom and focused on international growth.
"His drive to deliver award winning experiences sets Simon apart. We are very excited to add Simon's passion for client collaboration and creativity to our EMEAA team," said Richard Cashmore, Regional Manager for Mechdyne EMEAA and himself a 30 year industry veteran. "Simon's focus on user experience, for both corporate and public spaces, will be of tremendous benefit to clients."
Simon brings an appreciation for the need to balance technology with user and business case requirements.  Investments in high value audio visual and immersive experience solutions must generate return through careful planning and long term support.
Contact:    richard.cashmore@mechdyne.com     +44 1509 228171
Want to Learn More About Mechdyne's AV & VR Services? 
Please complete the form below.