In-camera visual effects (VFX) and virtual production are quickly changing the television and film industry throughout the world. It allows studios to tell stories more efficiently and effectively than they could with green screens and even location-based filming. But this technology solution isn't just for Hollywood; it offers many benefits that are game-changers for enterprises. Organizations of all types and sizes can scale virtual production to meet their distinct needs. Before we go through the benefits of VFX, let's review the use cases.
Uses of Virtual Production for Enterprise
The pandemic has changed the way we all do business, for the foreseeable future. Organizations have had to navigate how to grow their business when face-to-face interactions are a challenge. While online video meetings keep us in contact with our audiences, it's far from ideal. Most online meeting content is static so keeping audiences engaged for any length of time is a challenge. Virtual production solutions can help bridge that gap. From hybrid events and town hall meetings to virtual briefings and design reviews, virtual production offers an interactive and engaging experience for in-person and remote audiences alike.
3 Benefits of Employing Virtual Production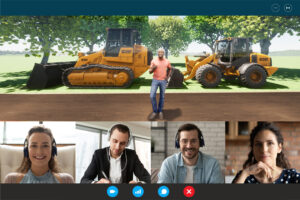 1. Create Engaging Experiences for Remote Participants
This technology captures the attention of remote audiences by creating immersive, active participation experiences, that allow viewers to see real-time, life-sized demonstrations instead of reviewing stale, static PowerPoint slides. Presenters don't stare into a green screen and try to point at invisible objects. With a VFX set, presenters can interact naturally with their subject matter.
Presenters dynamically show their virtual content or designs from 360-degree viewpoints. Virtual production technology allows the demonstrator to alter colors, shapes, and profiles in an instant. Multiple virtual environments or use cases can be simulated with a click of a mouse, sparking imagination, and uncovering possibilities in the remote participants' minds.
2. Reduce Travel Expenses
VFX-supported communication can make remote meetings as effective as in-person interactions reducing the need to travel for client briefings or town hall meetings.
Organizations can reinvest the money saved on travel expenses and spend it on creating memorable, immersive content that will leave prospects, shareholders, or teammates eager for more.
3. Shorten Sales Cycles
Finding or changing times for travel and in-person interactions can extend sales cycles out for weeks. Virtual productions allow organizations to conduct online briefings with clients and prospects that are as impressive and engaging as in-person demonstrations while providing more flexibility with meeting scheduling.
Deals can close quicker. New opportunities can be pursued sooner.
Scalable Virtual Production Solutions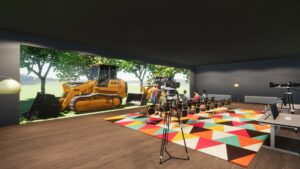 Whether your organization wants to add VFX capabilities to existing presentation spaces or create a designated production facility, the options are nearly endless. Virtual production can be incorporated into any workflow, regardless of the complexity. From a single display behind a conference room table or desk to a full-scale floor-to-ceiling display, virtual production solutions elevate every space and every remote experience.
Want to Learn More About Mechdyne's AV & VR Services? 
Please complete the form below.